Directions
There are plenty of ways of getting to visit us, whether you live here in town, nearby, or fancy a trip up from Benidorm for the day: Walking, car, train (replacement bus service), local and national bus services are all available and have decent schedules.
If you live in town, you probably know where we are already, but please come and say hi as we're new and hope to be able to meet many new friends and customers. There's parking options nearby, including the main underground car park, one across the street (which only charges through the day), two small car parks just around the side of the railway line (one paying, one free) and plenty of free spaces just down the street.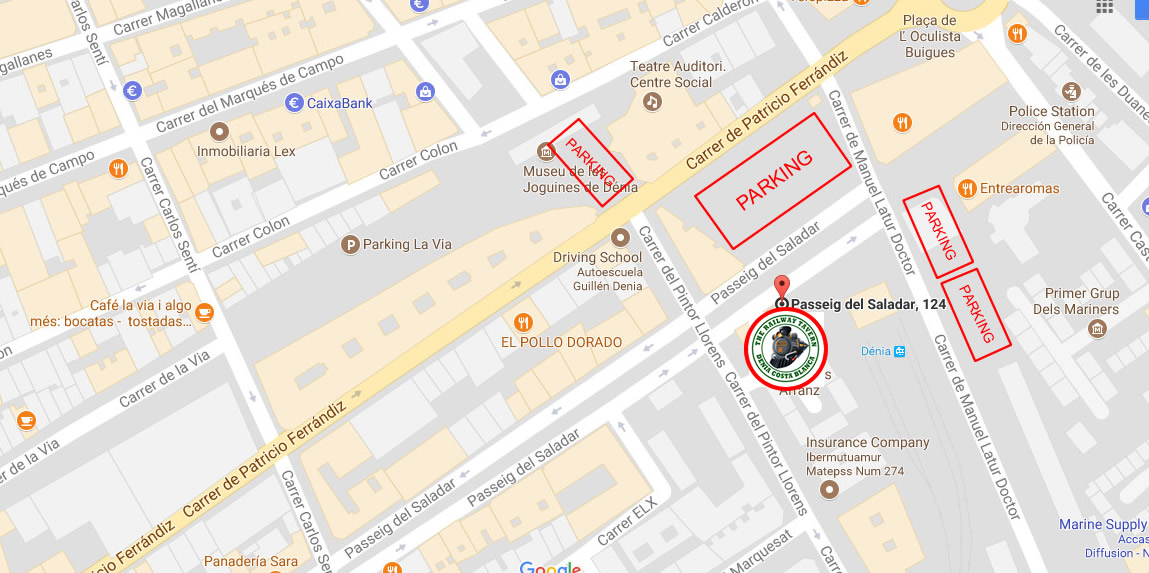 Pinch Screen For Close-Up Map
Whilst the train is currently closed as the train tracks get re-laid (due for completion in 2019), there is a replacement bus service operating from Denia to Calpe, where the train line has been completed and therefore the remainder of the journey is completed on the train to Benidorm (and onwards to Alicante City). When you arrive in Denia, you'll be dropped off at the back end of the Railway Station. Take the road down the side (Carrer de Manuel Latur Doctor) just to the front of the Train Station and turn left. You'll see our signs.
The Tren Bus Schedule (in English) to and from Denia can be found here
The national bus company, Alsa, offer a great service all across Spain. If you're after a bit of footy on TV or fancy a good old English breakfast in Denia, we're no more than 30 mins each way from Gandia, Oliva, Benissa, Calpe etc.
The Alsa Website (in English) is very easy to use and can be found here
Autocares Carrio is a local bus service offering two routes: One between Denia and Jalon and the other between Denia and Javea (Javea route only Mon-Fri). So if you're in Jalon, Alcalali, Beniarbeig, Ondara, Jesus Pobre, La Xara etc. check out the website below for bus times to Denia. As with the Alsa bus, you'll get dropped off in the Bus square on Denia.
The Autocares Carrio Website can be found here. Check the 'Horarios Section' for both routes.